| | | |
| --- | --- | --- |
| | | |
How many years have you worked in the Movie Theatre Industry and how did you first become involved?
I'm a relative newbie to the theatre industry, first coming to work for Galaxy Theatres as a General Manager almost four years ago. I had spent the majority of my career in the restaurant and hospitality industry, and I always loved it. When the opportunity to join Galaxy's team came up, I was very excited and a little nervous about taking such a big leap into an unknown field. The last four years have allowed me to grow so much, professionally and personally, and – more importantly – I have genuinely enjoyed them. I can't wait to see where the rest of my career in this business takes me!
---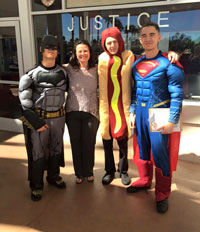 Kim and members of her team at a Project Picture promotion for Batman V Superman, where the local police department squared off against the local fire department in a hot dog eating contest and raised more than $1400 each for both organizations.

What's the best part of your Job? Do you have any memorable experiences that you would like to share?
It sounds a little corny, but I really do feel like I get to make a difference and get to see some wonderful things in my job.

With my guests, I get to be a part of some very special experiences with them. I've seen marriage proposals, birthday parties, holiday traditions – all of these beautiful moments that they choose to share with us.

With my team members and managers, I get to watch them grow and change before my eyes. I remember one particular team member who was practically scared of his own shadow when he first started working with us. By the time he had been with us for a year, he was engaging and confident and one of the best trainers I had ever seen. It's really gratifying to get to see that type of transformation happen and feel like you were some small part of it.
---
What is your fondest movie theatre memory?
Growing up, I followed my military parents from one base to another, all around the world. At every base, there was a small theatre where friends and I loved to spend our Saturday nights and feel like any other kid, living a typical American childhood. I will always remember that the Star Spangled Banner would play before every show, and we would all stand for it together, with our hands over our hearts.
---
How old were you when you went to your first movie? Do you remember the theatre and the city?
I know I'd seen lots of movies before this, but the first one I vividly really remember was Grease 2 (I know, not one that would stand out for everyone!). I was seven years old and went to a little theatre in Albuquerque, New Mexico, with my cousins who were visiting from England. By the end of the movie, we had already memorized half the songs and were begging our moms to take us to see it again.
---
What is your favorite movie of all time? What is it about this movie that stands out for you?
I love all classic movies – from musicals, to Westerns, to romance. At the top of that list will always be Gone with the Wind. I love the characters, the imagery, the music, and the absolute glamor of that film. I've read the book at least a dozen times and probably seen the movie three or four times that! This is one of the few instances in life where I feel like the spirit of the book was truly captured on screen, and I love to watch it right after finishing the book (again!).
---
Do you have any industry related hobbies or experiences? Please explain.
When I was younger, I was always a performer – drama, music, choir, dance. I loved it all and was really energized by the showmanship. I was also lucky enough to get to be a part of one of my son's acting career. Now, though, I feel like I get to satisfy my performance bug by being a part of eight different shows, five times a day.
---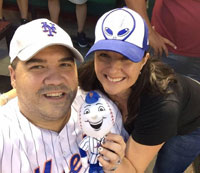 Kim and her husband at a NY Mets baseball game, holding a doll of their mascot, Mr. Met.

Do you have any special interests? What are they?
I love spending time with my three boys and the occasional date-night with my husband. I also enjoy reading, travelling, wine-tasting, working out, belting out sappy karaoke tunes, and anything Disney related. As the mom of three boys, I don't have much of a choice but to be a sports nut, especially when it comes to MMA events, Las Vegas 51s and New York Mets baseball, Dallas Cowboys football, and anything Ohio State.
---
What does being a member of NATO of CA/NV mean to you?
I love the connections I see between members. Being one of the newer faces in the group at most events, I often get the chance to just sit back and see the interactions and the genuine excitement of getting together with old friends and colleagues again.
---
Of all the resources that the Association offers (seminars, scholarships, email advisories, etc.) which is most useful for you?
Personally, I have gained a lot of knowledge from the seminars and email advisories. I think it is the scholarships, though, that really sets the organization apart as one that truly exists for the benefit of its members and their teams.
---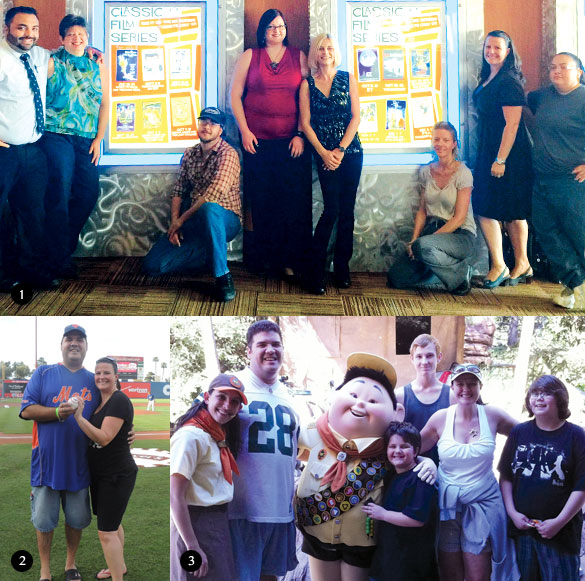 1. Kim and her management team inside the theatre. 2. Kim and her husband about to throw out the first pitch at a Las Vegas 51s game (they are the NY Mets triple -A baseball team). 3. Kim with her husband and three sons at Disney California Adventure (the littlest one, her son Anthony, was the pre-recorded voice for the character Russell for this show).