The Galaxy Tulare + Theatre was surprised with some great news last month when the
entire Tulare Chamber of Commerce paid a surprise visit to congratulate the theatre on being
selected as the 2017 Large Business of the Year.
---
How many years have you worked in the Movie Theatre Industry and how did you first become involved?
I'm going into my fourteenth year! In my junior year in high school I discovered that Galaxy Theatres was coming to town. Tulare was desperate for a movie theatre. Being the avid moviegoer that I am, I applied & got the job. Initially I was planning to work a part-time job, but over the course of time I discovered a love for the business. I quickly converted to full-time & worked my way up the chain of command. After graduating from CSU Fresno, I made the decision to move up into upper management. Shortly after I took over the General Manager position I realized it was one of the best decisions I've made in my life.
---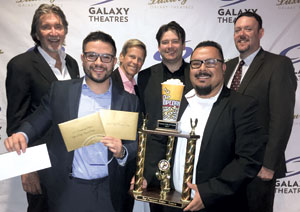 The Tulare Luxury+ Team.

What's the best part of your Job? Do you have any memorable experiences that you would like to share?
The best thing about my job is the impact I am able to make on all the guests in my community & my entire team! I am a firm believer that the memories you create for others by your actions are your legacy. This is how I think life works.

One recent memorable experience that came at me with heavy emotion was with a team member who joined the Galaxy family as his first job while in high school. Over the course of time I watched this young boy become a man. Several similarities stuck out at me that reminded me of myself. He acknowledged me as a mentor who contributed to his success. During his college tenure, he pursued his education while working full time with Galaxy. After graduating & relocating out of California he came in person to thank me for everything. The tone & emotion he spoke in struck a chord with me. He remembered his time here & the people who helped him to grow. He informed me that throughout his years in high school & college my name came up as he reflected back upon the good fortunes in his life. He always remembered something he learned from me that helped him be a better person. He carried it & practiced it all those years.
---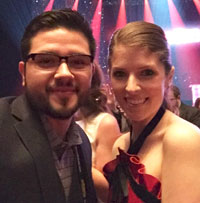 Freddie with Anna Kendrick.

What is your fondest movie theatre memory?
Attending CinemaCon for the first time and watching every screening in the Caesars Palace Colosseum. State of the art projection, complimented with Dolby Atmos along with the largest screen that I've ever seen in person! It was a surreal moment for me. To top that, I ran into celebrities I never thought of seeing in my lifetime! Charlize Theron, Anna Kendrick, Jeff Goldblum, Mila Kunis, Jessica Chastain, John Cena, Eugenio Derbez, are just a few that gave me star struck moments that I will never forget!
---
How old were you when you went to your first movie?
Do you remember the theatre and the city?
I was 5yrs old & my dad took me to watch Jurassic Park at the Edwards West Covina Stadium 18 theatre. It's the day I realized Steven Spielberg was a genius & would continue to watch any film he'd make.
---
What is your favorite movie of all time? What is it about this movie that stands out for you?
Tough question to answer because I have so many favorites…but I'll have to settle on Home Alone. Home Alone is an all-time favorite for many of my friends & family. No matter if it's Christmas season or not, we enjoy quoting this movie & always gain a great laugh! Nonetheless the sequel was fantastic! Home Alone 2: Lost In New York was nothing short of exceptional. I love watching these films with my son & seeing his reaction to all the humor which reminds me of my childhood. I'm still saddened to this day that Macaulay Culkin didn't continue his acting career & let's never rule out Joe Pesci! I'm so happy he's returning to the big screen with Martin Scorsese! Joe Pesci is one of my all-time favorite actors!
---
Do you have any industry related hobbies or experiences? Please explain.
It's becoming one of my weekly hobbies, and that is my involvement with my Rotary Club. I really enjoy the community outreach Galaxy, Rotary & the City accomplish when we put our heads together. Having prominent leaders in our community attend & figure out new ways to better serve our people really fuels a deeper passion & appreciation for my town. Whether it's volunteering at our annual 9/11 blood drive, helping fundraise for the Salvation Army Christmas Party, or participating at our annual crab feed auction; it's always great to see everyone in our community come together for a greater good! It's something I try to show my son & the rest of the youth in our town. "Service Above Self".
---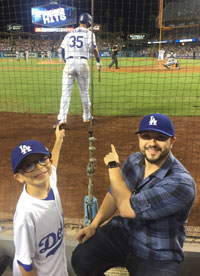 Freddie with his son
at a Dodgers game.

Do you have any special interests that you would like to share?
I have a huge interest in sports memorabilia. Specifically anything Dodgers related. My dad got me into this & my grandpa got him into it. Three generations! Needless to say it was extremely easy to get my son to show interest as well. The most valuable treasure I own is a signed baseball by Sandy Koufax.
---
What does being a member of NATO of CA/NV mean to you?
It's extremely valuable & beneficial! Since becoming a member, the information communicated to every theatre chain is vital. I really admire how we all may have different theatre circuits or handle other business in the movie industry, but we come together to achieve success & hear success stories.
---
Of all the resources that the Association offers (seminars, scholarships, email advisories, etc.) which is most useful for you?
Everything the association offers is useful! Every year I apply something different to my team. The security email advisories I also implement immediately when we receive them.
---