How many years have you worked in the Movie Theatre Industry and how did you first become involved?
I built my first theatre out of salvage from theatres being demolished in 1972 at the age of 19. This year marks 45 years in exhibition.
---
What's the best part of your Job?
Today I operate only one theatre, The Grand Lake in Oakland. At one time I had nineteen locations in operation. I love the architecture of movie palaces and my favorite part of running theatres was always the enjoyment of watching movies.
---
What is your fondest movie theatre memory?
The first time I watched a film at the Grand Lake after taking over that location in January 1980.
---
How old were you when you went to your first movie? Do you remember the theatre and the city?
I grew up in Stamford, Connecticut and I always loved sitting at the top of the balcony in the Palace Theatre.
---
What is your favorite movie of all time? What is it about this movie that stands out for you?
The Lord of the Rings Trilogy. I have always been a fan of J.R.R. Tolkien.
---
Do you have any special interests? What are they?
Art and antiques. Today exhibition is just a hobby for me. I own and operate Michaan's Auctions which is a full service auction house.
---
Is there anything else that you would like to share about yourself?
I also produce a monthly outdoor antique faire on the first Sunday of each month. The Alameda Point Antique Faire has nearly 1000 vendors and over 10,000 shoppers each month.
---
What does being a member of NATO of CA/NV mean to you?
It is an important organization to protect theatres from oppressive legislation.
---
Of all the resources that the Association offers (seminars, scholarships, email advisories, etc.) which is most useful for you?
The Film Product Seminars.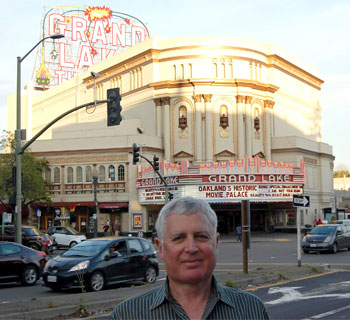 Allen Michaan loves being an exhibitor. He built his first theatre in a warehouse at age 19 with materials from demolished theatres. He's been involved with over 30 theatres and megaplexes. He seems to have a knack for creating exhibitions with a mighty message, it's a part of his spirit. You could say that may be part of the thrill, sticking it to the man!
Mr. Michaan uses his marquee at the Grand Lake Theatre for both displaying movie titles and posting messages. For example, on December 11th, 2000 he was inspired to post his very first political message, "This is America, every vote should be counted." Mr. Michaan recalls the tremendous reaction from the public and an outpouring of support and honking cars passing by. He's since continued his political messages- when he takes up with the city government it'll be about parking tickets, local parks and schools and mayors, and more parking tickets. When asked what his marquee messages mean to him and why it's important, he replied, "It's gratifying and less frustrating to be able to say something and make a difference." "The city knows I can get things done," so they listen to him. He doesn't pull any punches.
It was only going to be a one-time thing but then became an all-the-time thing. He writes all of the politically themed messages at Oakland's Grand Lake Theatre himself. Allen acquired the old French Renaissance style theatre in 1980 and renovated it through the years keeping true to classic movie house fashion. Now he only operates the Grand Lake Theatre. In 1985 he added on to the Grand Lake and constructed an Egyptian atmospheric theatre with twinkling stars and another theatre in a Moorish palace style as he says, "It's highly ornate. We created ornamental plaster work from scratch." The themes were borrowed from other theatres that were built in the '20s, and he and his team worked off of photos of the theatres he wanted to emulate.
Mr. Michaan built other movie palace-themed theatres, created the Opera Plaza Cinemas in San Francisco as a small modern art house multiplex, and has restored theatres all over the Bay area but the Grand Lake will always be his baby. He still gets a lot of satisfaction out of watching people experience his theatre and out of seeing how awed they are by the surroundings. When he decided to exit exhibition, he couldn't let go of the Grand Lake. Exhibition is now a hobby since he's had to reinvent himself after the megaplexes rolled into the hood. He's now involved with antiques and auctions.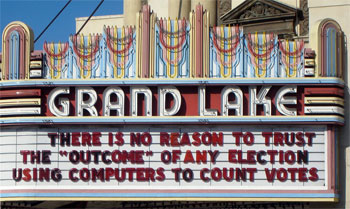 Allen Michaan is an exhibitor and he also has a message. You can see a photo inventory of all his political marquees on his flickr account at: https://www.flickr.com/photos/grand-lake/.
You're not going to stop hearing from him or his marquees any time soon.